All Them Witches tickets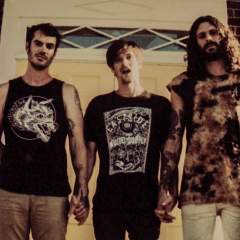 All Them Witches channel dark blues and heavy psychedelic melodies to produce a powerful brooding heavy rock. Their music is spacious, relentless and satisfyingly dense. Still somewhat of an underground secret, the band is developing a devoted following amongst those in the know.

The band features the vocal talents of Charles Michael Parks, Jr who also plays bass, Ben McLeod on guitar, Allan Van Cleave playing keys and drummer Robby Staebler. Parks met Staebler whilst they were both working in "a corporate hippie store". Parks had been jamming with McLeod and shared the results with Staebler. The band was formed after Van Cleave was invited to join.

The chemistry was strong and the band immediately set about the task of recording. Debut album Our Mother Electricity was released in 2012 by Elektrohasch: the first release of an American act by the German label.

Whilst touring hard, the band also recorded the Extra Pleasant EP using only two microphones plugged directly into a cassette recorder.

In 2014 the band delighted all by making a secret release of their second album through Bandcamp. Lightening At The Door was initially self-released and then was snapped up by Tone Tree Music. With an amazing records promoted by killer live performances the band's reputation grew amongst the educated listeners.

Their third album, titled Dying Surfer Meets His Maker, was recorded in a studio hidden away in a remote cabin at Pigeon Forge in eastern Tennessee. Released towards the end of 2015, it sets the band up perfectly for an exciting new year.

All Them Witches tickets are about to be released. Set a personal reminder so you are ready for them to become available at 09:00 on Friday 24th of February.

See them play at Rescue Rooms in Nottingham on Sunday 8th of October, 2017.


Concert tickets are available online through Gigantic.

Availability is always limited so make sure you book early.

Monday 27th September 2021

Doors at 18:30
Tuesday 28th September 2021

Doors at 19:00
Contact venue for tickets