Alter Bridge tickets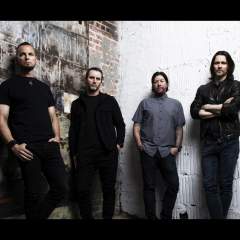 Alter Bridge formed following the disbandment of Creed in 2004. The band members include drummer Scott Philips, vocals shared between guitarists Myles Kennedy and Mark Tremonti plus Brian Marshall on bass. Feeling as if the band had run its course, Creed members Tremonti, Marshall and Phillips had been fans of Kennedy's former band The Mayfield Four and were quick to recruit him into their new project.

Launching themselves into the music, Alter Bridge released their debut album One Day Remains in 2004. Produced by Ben Grosse (Marilyn Manson, Depeche Mode, Thirty Seconds To Mars), One Day Remains sold over 750,000 copies peaking at #5 in the Billboard Charts for fourteen weeks and would come to be certified Gold.

Their second album was released in 2007 and titled Blackbird. It rose to #37 on the UK Album Chart and featured the singles Rise Today, Ties That Bind and Watch Over You.

In 2009 they released their live album Live From Amsterdam through Amazon.com where it shot to #1 in their Bestsellers in Music Videos and Concerts chart in just eight hours, and remained there for several weeks despite receiving no official promotion.

Alter Bridge took a break due to Creed playing a reformation tour and returned in 2010 with the utilitarian titled album AB III which proved to be somewhat darker than the predecessors. Their latest release was the 2013 album Fortress which marked a period of successful experimentation for them.

The band have hinted at an upcoming album. Their fifth studio album should be released very soon and you can expect to hear new material at their highly anticipated upcoming shows.

Alter Bridge tickets will soon be available. Use Gigantic.com to set your very own personal reminder so you don't miss out when they go on sale at 09:00 on Friday 8th of July.

This November sees the band embark on a thrilling tour of some of the UK's biggest venues, including Manchester Arena, The O2 Arena in London, Motorpoint Arena Nottingham, Genting Arena at Birmingham, Cardiff Motorpoint Arena and First Direct Arena at Leeds.

Concert tickets are limited so book early to prevent any disappointment.

No events available right now