Another Sky tickets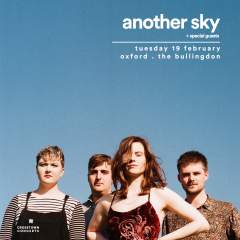 Another Sky are certainly causing quite a storm. You can see them perform at Portland Arms in Cambridge and Newhampton Arts Centre at Wolverhampton during May and The Venue at Derby in June 2019.

The word is spreading and the demand is rising so make sure you act fast and book your Another Sky tickets before they are all snatched up. Making your gig tickets booking is made easy as you can access Gigantic 24/7 at home or on the go using a tablet, computer or smartphone.

We make your booking even easier if you set a personal reminder with Gigantic. It means we can send you a link via text message or email directing to where you can make your purchase just prior to the release of Another Sky gig tickets at 10:00 on Saturday the 6th of April.




London based band Another Sky certainly impressed with the release of their debut EP Forget Yourself. This year has seen the release of their new song Avalanche which addresses feminist issues head on;

"Avalanche speaks of the toxic masculinity that bleeds into every other form of oppression, that causes white men with badges to shoot black men without, that causes women to live their lives in fear, that causes men themselves to live in fear" - Catrin Vincent (Vocalist)

"Pairing this vocal with a more indie-leaning instrumental, Another Sky are able to make a real moment of beauty on Avalanche, something the band cement even further with the single's official video. Inspired by Tracey Chapman and the #MeToo movement, Avalanche's video unites the single's twisted and emotive drive with a video that forces you to focus on Vincent's presence and her emotions, which match the theme of the single pretty damn well." - Hayden Davies, Pile Rats

Gigantic is the very best place to book your Another Sky concert tickets, but with only limited supplies being made available, we do urge you to place your order before they are all snatched up.

Offering a fantastic selection of the very latest gig tickets plus an excellent customer services team ready to assist with any enquiry, Gigantic should always be your first choice whenever you are planning your big night out.
No events available right now