Bikini Kill tickets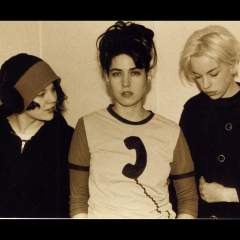 Pioneers of riot grrl movement and the very embodiment of righteous feminist fury; Bikini Kill are drummer Tobi Vail, screaming provocateur Kathleen Hannah, guitarist Billy Karen and bassist Kathi Wilcox.

We are so very pleased to be able to tell you that the definitive sound of girl style revolution is back! Rebel girls Bikini Kill will be playing O2 Academy Brixton in London on Monday 10th of June 2019.

Gigantic always brings you the very best events and so we are very excited to be able to offer you Bikini Kill tickets. With the demand so very high, you will have to be quick and place your order before they all sell out. We make the booking process easy, giving you access to our ever-growing selection of the hottest tickets using your smartphone, tablet or computer 24/7 from the comfort of your home or while out and about.

We really advise that you set a personal reminder for Bikini Kill gig tickets with Gigantic right now. That way you are in front of the rest as we will send you a text message or an email as soon as they become available at 10:00 on Friday 22nd of February.




With the current resurgence in energy of worldwide feminism, it is hard to imagine a time before Bikini Kill and their legacy cannot be understated. The band was formed in the last months of 1990 by Vail, Hannah and Wilcox whilst the three were studying at The Evergreen State College in Washington. The provocative troika pushed for radical change for the betterment of all woman through their handmade fanzines, punk art events and ferocious gigs.

After self-releasing their debut EP Revolution Girl Style Now, they were soon picked up by iconic indie label Kill Rock Stars who put out a second eponymously titled extended player. Their debut album Pussy Whipped was produced by Ian MacKaye of Minor Threat and Fugazi fame and released in September of 1993 to become the definitive sound of riot grrl.

Faced with a conservative backlash from the music press, Bikini Kill began a self-imposed media blackout and would only address critics through their music and live performances. Their final album to date, Reject All American, was released in 1996 before they split a year later. It remains a vitally relevant acidic take down of the patriarchy that is insidiously riddled through all western culture.

Given the unique nature of this gig and the sheer importance of the band to the history of punk, their vital contribution to the progression of rock and roll and their enduring appeal as they are discovered by new generations, everyone knows that these Bikini Kill concert tickets are not expected to be around for long so book early or risk totally missing out.

Gigantic is always the best place to come to make a stress-free booking, with 24/7 access to our site using your smartphone, tablet or computer plus a dedicated customer services team on hand; placing your order has never been easier so stick with us to get the best from our award-winning service.
Monday 31st May 2021

Doors at 19:00
Wednesday 2nd June 2021

Doors at 19:00