Bo Ningen tickets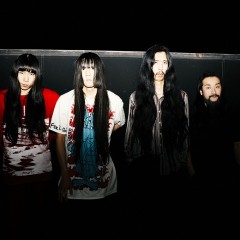 Noise rock band Bo Ningen are one of the most intriguing and exciting acts of a generation.

"The Japanese four-piece came armed with face-melting monster riffs to a psychedelic showcase of cosmic shock and awe" - The Guardian

Be sure to see them when they play at Dryden Street Social in Leicester on Saturday 23rd of September 2017.

We are very excited to be able to offer Bo Ningen. Gig ticket orders can be placed with Gigantic 24/7 using your computer, tablet or smartphone enabling you to book at home or on the go. Going on sale at 18:00 on Monday 31st of July, we recommend you set a personal reminder so you can be alerted with an email or a text message when they become available.

The band have produced some of the most interesting records of recent years, including their eponymous titled debut in 2010, Line The Wall released two years later and their latest album III which came out in 2014.

"Bo Ningen have made "a sound" out of not having one, or rather via a saturation of gloriously overwhelming noise and ideas that converge in an organised, yet frantic way. In fact, "frantic" may be the best description for much of Bo Ningen's style, and never has it been more applicable than on the foursome's latest record III." - The Quietes

"III is in no way an easy album to love, nor is it something that you can just dip into, or an album you'll probably ever casually put on. It's such an confrontational piece of work that you need to mentally prepare prior to the needle hitting the groove. Once it does though, you are dragged into Bo Ningen's world, a place where the fusion of rhythm fighting against musical aggression has never sounded so thrilling." - The Line Of Best Fit

We only have limited amounts of Bo Ningen concert tickets to put on sale so you must act fast and book yours early as they will go. Offering great customer service on a huge range of essential gig tickets, Gigantic is the very best place to come whenever you are booking for your big night out.