Cabbage tickets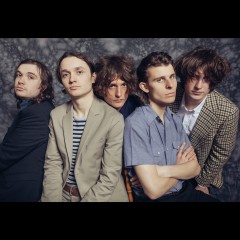 Irreverent post punk agitators Cabbage have burst onto the scene. A million miles apart from the bland proliferators of radio friendly pop detritus, Cabbage are astute, challenging, juvenile, intelligent and wilfully idiotic in the same polemic punch.

Raging surf garage guitars meet the frenetic pulse set by the drums whilst critical vocals are screamed driving audiences into a frenzy. No wonder they are being bestowed the title of ' Manchester's most exciting new band'.

The band members include drummer Asa Morely, guitarists Eoghan Clifford and Joe Martin with Lee Broadbent taking vocals and Stephen Evans on bass.

Catch them when they hit The Cookie at Leicester on Thursday 9th of May 2019.

The excitement is rocketing and the demand for Cabbage tickets continues to grow meaning you will have to act fast and place your order before they are all snapped up. Gigantic makes placing your gig ticket order easy by enabling 24/7 access to our site using your tablet, smartphone or computer while relaxing at home or busy on the go.

Everyone wants to be at the very best shows and so it is vital to be ready whenever your favourite acts goes on sale. So, make sure you set a personal reminder with Gigantic which will alert you just prior to the release of Cabbage gig tickets at 09:00 on Friday 1st of March with a text message or an email.



The Manchester band draw influence from the darker elements of their cities bands plus those with sardonic wit, favouring the likes of Joy Division and The Fall. They are also drawn to the self-destructive anarchic nature of GG Allin.

"GG Allin is a big inspiration. Lee [Broadbent] showed me a video of him on stage, having a shit and getting his little willy out, and it fascinated me. He's a true heart-on-sleeve original, who died for his cause. It may not have been a very focused cause, but he was artistically great." - Joe Martin

Spitting vicious political criticism and always attacking the status quo, the band never relent their sonic attack on injustice.

"Unless you've had your head in a washing machine for your entire adult life, how are you not writing about something political? It's baffling. No bands are saying anything whatsoever." - Joe Martin

Given the meteoric rise of the new band, Cabbage concert tickets are now selling so fast. Do not hang around as you will miss out. Always make Gigantic your first choice for the very best gig tickets on offer.

Wednesday 5th May 2021

Doors at 18:30
Friday 7th May 2021

Doors at 19:00
Friday 21st May 2021

Doors at 19:30