Castell Roc tickets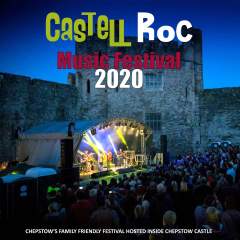 Castell Roc is "the perfect recipe for the perfect evening out"...
First, take one absolutely gorgeous Welsh Castle. Add a big stage, a great sound system and quality theatre lighting. Squeeze in a superb bar selling local ales, ciders, quality wines and spirits. Mix in locally sourced food outlets. Finally sprinkle with an array of amazing stars of the stage and "hey presto", you have a taste of CASTELL ROC FESTIVAL.
Held inside the historic walls of Chepstow Castle and hosting a variety of different shows to suit all tastes, the Festival has been nationally praised for its relaxed atmosphere as well as its world class Venue. It's not like Glastonbury, it's small (but perfectly formed), it's definitely quaint, it's intimate, the acoustics are brilliant, it's perfect for all ages and it is by far much prettier.
The fabulous Festival is located a mile off the M48 at the old Severn Bridge (just 15 minutes from Bristol or 30 minutes from Cardiff or Gloucester).
Details of all shows at www.castellroc.co.uk including and array of previous show photos, showing just a little of what you have missed so far.
Friday 23rd April 2021

Gates at: 18:30
Sunday 25th April 2021

Gates at: 00:00
Friday 30th April 2021

Gates at: 18:30
Saturday 1st May 2021

Gates at: 18:30
Sunday 2nd May 2021

Gates at: 18:30