Chilly Gonzales tickets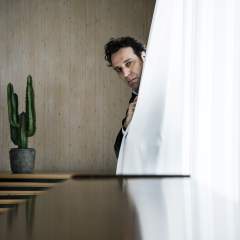 Chilly Gonzales, the Grammy-winning Canadian pianist and entertainer, is known as much for the intimate piano touch of best-selling albums Solo Piano I and Solo Piano II as for his showmanship and composition for award-winning stars. Gonzo, as he is known to close collaborators, aims to be a man of his time, approaching the piano with classical and jazz training but with the attitude of a rapper.

Chilly Gonzales holds the Guinness world record for the longest solo concert at over 27 hours. He performs and writes songs with Jarvis Cocker, Feist and Drake, among others.

He now announces a major gig at Barbican Hall in London taking place on Sunday 12th of May 2019. Gigantic is famed for having the very best selection and we are very excited to be able to offer you Chilly Gonzales tickets. Placing your booking is made easy as you can access our site 24/7 using a smartphone, tablet or computer whether you are relaxing at home or whilst busy and on the go.


The show sees the return of Chilly Gonzales to the stage with an intimate hour of pieces from the Solo Piano album cycle, following the recent release of Solo Piano III, after which he is joined by Stella Le Page on cello and Joe Flory on drums to perform hits and hidden surprises from the rest of his repertoire, interspersed with his unique playful explanations about how music works.

At Gigantic, we are passionate about music and so we are pleased to have Chilly Gonzales concert tickets added to our superb selection. But with only limited amounts on sale, you need to act fast and book yours before our limited supplies all sell out.

Award winning ticket vendor Gigantic has a customer services team ready and waiting for your every enquiry, making us the right place to come whenever you are booking for your big night out!