De La Soul tickets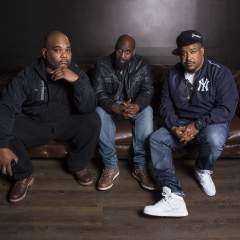 Ultimate hip hop trio De La Soul are known for their eclectic use of samples, deft lyrical skill and incredible tracks. The jazz rap pioneers are amongst the most important forces in global hip hop.

Following the release of ninth studio album And The Anonymous Nobody… last year they thrilled audiences when they played UK dates to promote the new material.

They have just been invited to join Madness when they take over Clapham Common for their exciting House Of Common event on Monday 28th of August, 2017. Get your De La Soul tickets from Gigantic.


Widely considered a hip-hop masterpiece, De La Soul's debut album, 3 Feet High And Rising, was hailed on its release as the future of the genre. A colourful burst of neo-psychedelic samples and playful wordplay plus the trio's trademark witty skits and lyrics, the album sounded like nothing else in hip-hop. True pioneers, De La Soul, eschewed the obvious influences of old-school rap or funk and spread their net wider, taking in pop, jazz, reggae and psychedelia.

Album of the Year on its release - a measure of 3 Feet High and Rising's cross-over appeal was the fact that it was voted Album of the Year by NME. De La Soul continue to garner awards, more recently in 2006, when they won a Grammy for their collaboration with Gorillaz on the single "Feel Good Inc".

Their success has continued with the release of another eight incredibly studio albums including their best-selling new release And The Anonymous Nobody… which sold more than 21,000 copies in the first week alone.

Because De La Soul concert tickets are such hot property you really need to book early as there are limited amounts and we do not want to disappoint. Always make Gigantic your first choice for the very best gig tickets.