DMAs tickets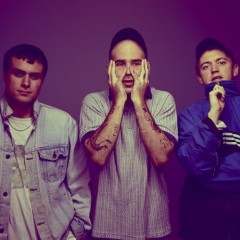 DMA'S (dee-em-ayes) is Johnny Took, Matt Mason and Tommy O'Dell - three friends who came together making nostalgic garage pop in a bedroom in Newtown, Australia.

Make sure you see them play at Cambridge Corn Exchange, Nottingham's iconic venue Rock City and Cardiff University Great Hall during April 2019.

"…the euphoria they evoke at this packed show is undeniably special." - NME

Now is your chance to book your DMAs tickets with Gigantic, we are very excited and as demand grows it makes sense to act fast and get yours before they are all taken. Gigantic makes selecting your favourite tickets and placing your order easy by enabling access to our site 24/7 using your smartphone, tablet or computer whilst relaxing at home or even busy and on the go.

We also highly recommend that you set a personal reminder right now, and then we can alert you when they become available at 10:00 on Friday 18th of January with an email or a text message.





Since the release of their brilliant debut album 'Hills End', DMA'S have not stopped for a second. From playing the coveted secret slot at Glastonbury, to smashing it on the Late Show with Stephen Colbert, to having 'Delete' added to BBC Radio 1 A Rotation.

Last year saw the release of their latest LP 'For Now' which was heralded as a major musical event by fans and critics alike.

"For Now is a worthy follow up to Hills End. It shows the band's progression as musicians and songwriters." - Indie Is Not A Genre

Fans are absolutely thrilled to hear of the release of DMAs concert tickets, but with only limited amounts being made available you will need to act fast and book yours before they are all gone. Gigantic has an excellent customer services dedicated to helping you making your choice from our wide selection of essential gig tickets so you know we are the best place to come when you are booking for your big night out.
Wednesday 7th April 2021

Doors at 19:00
Contact venue for tickets
Friday 16th April 2021

Doors at 19:30
Saturday 17th April 2021

Doors at 19:00
Contact venue for tickets