Foals tickets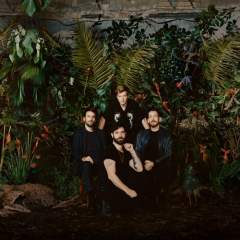 Oxford band Foals are known for the daring art rock explorations which has seen them release the albums Antidotes (2008), Mercury prize nominated LP Total Life Forever (2010), Holy Fire (2013) and What Went Down (2015) which has earned them many awards including being named by Q as their Best Live Act.

The experimental indie rockers have shocked once again, with the announcement that this year will see the release of not one but two albums as companion pieces to one another. Everything Not Saved Will Be Lost Part 1 is released on the 8th of March with the second half expected to come out in Autumn.

Foals will be promoting their bold new material with unmissable gigs at Bedgebury Pinetum & Forest, Goudhurst - Kent and Thetford Forest at Suffolk during June 2019.

Gigantic is passionate about getting you to the very best gigs and so we are very excited to be able to offer you Foals tickets. But make sure you get your order placed quickly, because you know that they will all sell very quickly! Gigantic makes sure we take all the stress out of placing your order by giving you access to out site through your tablet, smartphone or computer 24/7 so you can browse and buy at home or away.

Plus, do not miss your chance to see them when they headline This Is Tomorrow Festival where they will be joined by an impeccable line up selected to support them. All the action takes place on Friday 24th of May 2019 at Exhibition Park in Newcastle.


Little is yet know about forthcoming split albums Everything Not Saved Will Be Lost. However Part 1 does include the single Exits and it is expected that they will address the current turbulent political climate.

"I think the world is obviously affecting the way we feel as individuals," he said. "I definitely feel that when I'm writing lyrics or music, that it's in dialogue with what's going on around me in isolation - so I'm sure there will be things in the lyrics to do with, not just the political climate but also the environmental situation that's happening now." - Yannis Philippakis

We can feel your excitement building, but with only limited supplies of Foals concert tickets then you will have to grab yours before they all sell out. Award-winning ticket vendor Gigantic has proudly served our customers and provided excellent customer service for over ten years with our superb selection growing every day, so you know we are the right place to book your big night out.
No events available right now