King Krule tickets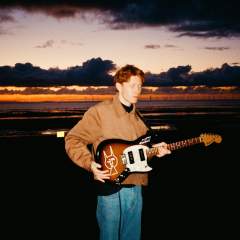 King Krule is the work of Archy Ivan Marshall. His innovative music crosses genres and has made him one of the most exciting new talents of recent years.

Following a number of prominent festival slots at Primavera and FYF, King Krule has now announced a worldwide headline tour in the autumn.

Catch him when he plays two dates at KOKO in London on Tuesday 21st and Wednesday 22nd of November.

Due to their massive appeal, King Krule tickets will sell incredibly quickly so you will need to act fast and book yours before they have all gone. You can place your Gigantic gig tickets order through tablet, computer or smartphone.

Archy Marshall, more commonly known by his stage name King Krule, is a British singer, songwriter and musician. Marshall studied at Forest Hill School and then at the Brit School for three years between 2008 and 2011.

His astonishing debut album 6 Feet Beneath To Moon came out in 2013 to an eager music press, certainly thrilled by the record.

"You could drop in on 6 Feet Beneath the Moon at any moment and let it unspool to its end, looping back to the start, and feel as captivated as you would at any other point of entry." - PopMatters

"At its core, Krule is showing all sides of his U.K. environment, and the multiple genres laced into the sparse backdrop are held together by an overlying somber grey fog. Peel that back and you have one of the most vital debuts of the year." - AllMusic

It was followed two years later by the album A New Place 2 Drown which is a collabrative effort between Archy and his brother Jack.

His latest release is the new video titled Czech One. Directed by Frank Lebon, the video sees Archy contemplating the vastness of time.

"To when and where the stars were formed, that glance upon this night / lightyears to sit upon and paint us as we lie. "

As there are only limited supplies of King Krule concert tickets you will need to act really fast and book yours before they are all snatched up. Gigantic has been offering excellent customer service on a wide range of essential gig tickets for ten years so you can be sure that we are the very best place to make a booking for your big night out.

Tuesday 25th May 2021

Doors at 19:00
Thursday 27th May 2021

Doors at 19:00
Friday 28th May 2021

Doors at 19:00