Michael Kiwanuka tickets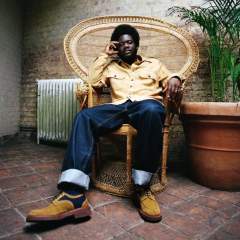 Soul sensation Michael Samuel Kiwanuka blends old style blues with elements of contemporary funk. His performances draw somewhat on folk and he is an accomplished acoustic guitarist.

Born in 1987, and coming from North London, Kiwanuka started his career as a session guitarist, playing with the likes of Chipmunk and Bashy. Having made the decision to work as an artist in his own right, he was signed to Communion Records with whom he put out Tell Me A Tale EP and I'm Getting Ready EP, both released in 2011.

Not only was he busy recording, but 2011 saw him play support for Adele on her 21 tour. All the hard work paid off as he signed to major label Polydor Records the same year.

Rising in prominence, he was entered in to the BBC Sound Of 2012 competition and was found to be the winner according to a poll of the general public.

His first album, Home Again, came out in 2012. It struck a chord with the public and shot right up to Number 4 in the UK Album charts. It was also well received by the press and critics. Well written, solid production and with depth of soul, Home Again saw Kiwanuka nominated for Mercury Prize for Album Of The Year.

Second album Love & Hate is set for a May release. His experimentation with sound has seen him develop lyrically and musically. New song Black Man In A White World sees Kiwanuka explore the struggles and everyday societal pressure to fit in. The song may take a hard look at the world, but it still sings of hope and fills the listener with strength.The album was shortlisted for the 2016 Mercury Music Prize giving an indication of just what great work it is.

Michael Kiwanuka tickets are on sale through Gigantic. Get them now!

He performs a headline set at Tramshed in Cardiff on Thursday 27th of June 2019.

Given his huge appeal, concert tickets for Michael Kiwanuka are expected to sell very quickly so book yours early. Stick with Gigantic for the best experience buying your gig tickets.

Friday 17th September 2021

Doors at 18:30
Contact venue for tickets