Orange Goblin tickets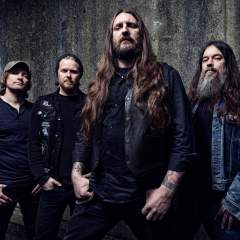 Orange Goblin burst out of the mid 90's to become London's most extreme boozed up, high octane, punk driven, massive doom band. More than a mere band, they offer an alternative way of life through their positive incredible party starting rock.

They currently comprise of drummer Chris Turner, guitarist Joe Hoare, vocals from Ben Ward and with Martyn Millard on bass.

They have just announced a major headline gig at Wolves Steel Mill in Wolverhampton on Friday 8th of February 2019.

Gigantic has a boundless passion for music and so we are so very excited to be able to offer your Orange Goblin tickets. Music means so much to so many people and we know that Steve Mason tickets will sell so very quickly, so make sure you place your order straight away.

Fortunately, placing your booking is made easy as you can access our site 24/7 using your tablet, computer and smartphone whilst relaxing at home or if you are on the go.





Orange Goblin; the London band formed in 1995 and started out working under the title Our Haunted Kingdom under which they released their first 7". They were soon signed to Rise Against Records and released debut album Frequencies From Plant Ten during 1997. Taking a stoner/doom direction, the album made waves in the underground and so they continued with the sound on Time Travelling Blues (1998) and The Big Black (2000).

Orange Goblin began to explore more avenues with their sound and soon took a heavier route. They released Coup de Grace in 2002 which included elements of punk and doom metal to great effect. Subsequent releases have continued to pursue a denser rock sound which has increased their fan base vastly.

Their subsequent releases include Thieving From The House Of God (2004), Healing Through Fire (2007), A Eulogy For The Damned (2012) and their latest release; Back From The Abyss (2014).

Orange Goblin concert tickets are in high demand so get yours before they are all gone. Everyone knows Gigantic offer the best experience when buying gig tickets, so stick with us!