Robyn Hitchcock tickets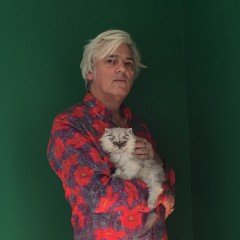 Robyn Hitchcock is one of England's most enduring contemporary singer/songwriters and live performers. A surrealist poet, talented guitarist, cult artist and musician's musician, Hitchcock is among alternative rock's father figures and is the closest thing the genre has to a Bob Dylan (not coincidentally his biggest musical inspiration).

See him when he plays at Reading's South Street Arts Centre in April and Wedgewood Rooms at Portsmouth in May.

Later in the year sees him also play Jericho Tavern at Oxford, The Deaf Institute at Manchester and Union Chapel in London during October 2019.

Gigantic always brings you the very best events and so we are very excited to be able to offer you Robyn Hitchcock tickets. With the demand so very high, you will have to be quick and place your order before they all sell out. We make the booking process easy, giving you access to our ever-growing selection of the hottest tickets using your smartphone, tablet or computer 24/7 from the comfort of your home or while out and about.

The demand for live music has never been greater, so you will need to be ready for the release of your favourite act. Gigantic offers you the choice to set a personal reminder so you can be alerted with a text message or an email just before Robyn Hitchcock gig tickets come on sale at 10:00 on Friday 22nd of March, setting you ahead of all the rest!



Since founding the art-rock band The Soft Boys in 1976, Robyn has recorded more than 20 albums as well as starred in 'Storefront Hitchcock' an in-concert film recorded in New York and directed by Jonathan Demme.

Blending folk and psychedelia with a wry British nihilism, Robyn describes his songs as 'paintings you can listen to'. His most recent album THE MAN UPSTAIRS is a bittersweet love letter to a vanishing world. Produced by legendary folk-rock svengali Joe Boyd (Pink Floyd, Nick Drake) the album was critically acclaimed by MOJO, UNCUT and THE QUIETUS.

"As a performer, he's as much a wandering bard as a rock star." - The Believer

"Some spectral, lingering, emotional thundercloud hangs over The Man Upstairs…harks back to that infinitely distant yet eternally resonant emotional big bang" - UNCUT

"A gifted melodist, Hitchcock nests engaging lyrics in some of the most bracing, rainbow-hued pop this side of Revolver. He wrests inspiration not from ordinary life but from extraordinary imaginings..." - Rolling Stone

Robyn Hitchcock concert tickets is just one name amongst our unbeatable selection of the most exciting events. But don't forget, there are only ever limited amounts and so you will need to book yours before they all go. Gigantic is the award-winning ticket vendor with over a decades experience plus a dedicated customer services team which is why we should always be your first choice whenever you are booking your big night out.
Thursday 23rd September 2021

Doors at 19:00
Tuesday 22nd March 2022

Doors at 20:00