Sam Fender tickets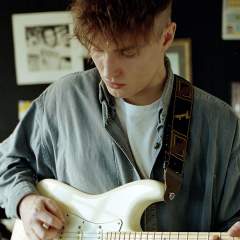 Who is Sam Fender?

If Sam Fender's debut album, 2019's "Hypersonic Missiles", introduced a smart, street-wise British songwriter with a penchant for euphoric, hard-hitting guitar anthems, it was 2021's peerless "Seventeen Going Under" that sent the Newcastle artist stratospheric. An acute observer, Fender turns the mirror not only on the streets he grew up walking, but on himself too. The record is a tough-talking but also tender account of Fender's childhood, finding his feet in the North of England amongst all the complexities and anxieties that weighed so heavily on his shoulders. It's also a coming of age story, marrying relatable family themes and broken friendships with devastatingly colossal choruses.

"Seventeen Going Under" is also a record that has taken Sam right across the globe, playing to bigger rooms and wider stages, whilst reaping a clutch of awards too (BRITs, NMEs, Ivor Novellos, and a prestigious Mercury Prize nomination).

Having headlined his first festivals in the UK in the Summer of 2022, and sold out all 45,000 tickets of his most recent headline performance in London, Sam Fender has inadvertently become one of Britain's most celebrated and successful musicians of a generation.


Where Can I see Sam Fender play live?

Sam Fender announces two very special headline shows at St James Park, Newcastle! See Sam take to the stage on Friday 9th and Saturday 10th of June, 2023!

Where can I get Sam Fender tickets?

Make sure you book your Sam Fender gig tickets with Gigantic - the best choice for live music!

Lola Young concert tickets are released at 10:00 on Friday 09th of September. Make sure you set your event reminder now!

Everyone is excited, and we at Gigantic expect our limited supplies of Sam Fender concert tickets to sell very quickly - so make sure you book yours before they all go!

Gigantic always has the best choice for the most thrilling shows and festivals - make sure you LIKE / FOLLOW us on Facebook, Twitter and Instagram for the latest live music news!
Friday 9th June 2023

Gates at: 16:00
Saturday 10th June 2023

Gates at: 16:00