The National tickets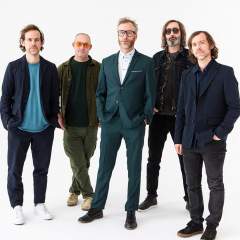 Led by songwriter Matt Berninger, indie rock band The National led the 00's post punk revival. Further band members include brothers Aaron (guitar, bass, keyboards) and Bryce Dessner (guitar), Scott Devendorf (bass, guitar) and Bryan Devendorf (drums).
Based in Brooklyn, they would reach cult status with their eponymous debut and second record Sad Songs for Dirty Lovers. Their third album Alligator would see them explode onto a bigger stage, with their first taste of mainstream success.
The mid 00's would see them begin to rapidly climb up the charts, first with the modest success of Boxer, and then smashing the Top 10 with each subsequent release, including records High Violet, Trouble Will Find Me, Sleep Well Beast and I Am Easy to Find.
This year, expectations are high for their next eagerly awaited album First Two Pages of Frankenstein.
Tuesday 26th September 2023

Doors at 18:30
Contact venue for tickets
Wednesday 27th September 2023

Doors at 18:30