Clap Your Hands Say Yeah tickets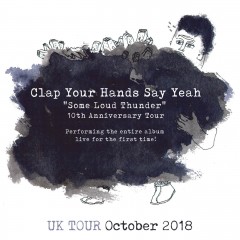 New York's finest indie rock band Clap Your Hands Say Yeah are about to hit the UK. Since forming in 2004, they have remained vital listening.

Their band members include drummer Sean Greenhalgh, guitarists Lee Sargent and Robbie Guertin who also plays keys and Tyler Sargent on bass.

Following the release of their highly anticipated album The Tourist, they now announce a tour 2018 to promote the new material and play hits from their great back catalogue as they celebrate the 10th Anniversary of Some Loud Thunder.

Later in the year, they take over The Bullingdon at Oxford, The Boileroom in Guildford, The Haunt in Brighton and Electric Ballroom in London During October 2018.




The burst onto the scene with the release of their self-titled debut album Clap Your Hands Say Yeah in 2005. The record instantly drew a wide listenership who sent it to #44 in the charts. It was also garnished with praise buy the music press.

"When they began their self-titled debut, they were uncertain kids from Brooklyn making a record from all the music they had ever known. They're leaving veterans of the game with obvious talent and colossal potential." - Delusions Of Adequacy

They have continued to develop as a band with each subsequent release. They followed up with second album Some Loud Thunder two years later, with further releases including Hysterical and their latest; Only Run.

"The result is an album of beautiful juxtapositions, steeped with poetic gravitas that nonetheless never fails soar." - AllMusic

"Above all else, Only Run feels full of this type of energy, the desperation and freedom of needing to prove yourself again." - PopMatters

Their latest release is the critically acclaimed fifth studio album The Tourist which was brought out at towards the beginning of 2017.
"A decade ago, Clap Your Hands Say Yeah were a modest, rickety band bearing the albatross of hype; today, they're an amorphous, musically adventurous entity basking in the freedom of no expectations." - Pitchfork

Make sure you book your Clap Your Hands Say Yeah concert tickets early or you may miss out. Gigantic always offers great customer service on a huge range of essential gig tickets so always choose us when booking your big night out.
Thursday 23rd September 2021

Doors at 19:30