Goat Girl tickets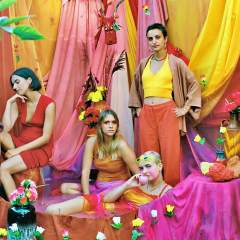 We have been very excited about the rise of Goat Girl. They had already announced shows at The Garage in London and The Cookie at Leicester in April.

With the release of their eponymously titled debut album this month, the have now given us details of a tour in promotion of the new material which takes them to Manchester Gorilla, The Bodega at Nottingham, Bristol Thekla and Wedgewood Rooms in Portsmouth during October 2018.

This summer, you will also see them make appearances at Citadel and Truck Festival.

We are incredibly excited to be able to offer you Goat Girl tickets, but we must also make you aware that the demand is sky high so you will have to book yours before they are all snatched up. Fortunately, placing an order for the very best gig tickets is made easy with Gigantic as you can access our site from the comfort of your home or whilst busy and on the go using a computer, smartphone or tablet.




Goat Girl belong to a burgeoning, close-knit south London scene, born in venues like The Windmill and including bands like Shame, Bat-Bike, Fat White Family, Horsey, Sorry, and many more.

"We help each other - I put you on, you put me on - because we genuinely like each other's music. We'd played gigs all over before but never really settled in a comfortable environment, which is what The Windmill is. It's an important place for us, it was the first space that our music made sense to exist within. It's a safe space where music is genuinely listened to and appreciated, and where laws and licensing haven't reached over to ruin the venue."

This live freedom enabled the band to think without constraints when it came to recording. Goat Girl enlisted producer Dan Carey (The Kills, Bat For Lashes, Franz Ferdinand) to help them capture their vision, set a goal to write and record a piece of music in a day in effort to capture that raw first-creation moment, and chose to record to tape.

"We wanted it to have a similar expression to our live sets and so knew from the start that a tape-based approach would work for us. There's less awareness of trying to achieve perfection as you can't edit out mistakes and so you allow them to occur instead. It felt like a really relaxed and natural environment, and you can hear the comfortability in the energy of our sound."

Fans will need to book their Goat Girl concert tickets early as there are only limited amounts being put on sale by the event organisers - so book yours before they all go! Gigantic has taken home Nottingham Post illustrious 'Retail Business of the Year 2017' award for providing excellent customer service on a wide range of essential gig tickets, so you can be sure we are the very best place to come whenever you are planning your big night out.