IDLES tickets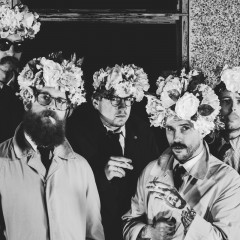 Heavy post punk band IDLES offer uncompromising music with muscle and unbridled anger. They dedicate themselves to terrifying and entertaining their audiences in equal measure.

IDLES are Joe Talbot (Singer), Jon Beavis (Drums), Mark Bowen (Guitar), Lee Kiernan (Guitar) and Adam Devonshire (Bass).

" In the quickest thirty minutes, I am blown away and disappointed to see that they aren't set up to play a massive world tour that would surely help bring them to the consciences of masses." - Louder Than War

" The live shows are bitter, sweaty and with an atmosphere thicker than blood - but there's a pop-tinged layer to their noise which claws the dapper lads from the seedy depths of emodom and into a Bauhaus era of acute, striking post-punk." - The Line Of Best Fit

With the release of their second album Joy As An Act Of Resistance in Autumn of this year, they now announce their tour to promote the new material which takes them to SWX at Bristol, Nottingham's iconic venue Rock City and O2 Academy Oxford during October 2018.




The Bristol band formed out of their frustration with their local music scene and began creating their own unique post punk sound. Visceral and aggressive, they prided themselves on creating truly challenging music which they began to showcase through their own club night named Batcave. Through constant practice and ferocious gigging the forged their own unique style which developed into creating their first album.

Brutalism was released during the spring of 2017 and quickly enjoyed wide critical acclaim, including from BBC 6 Music who declared the debut LP to be one of the Albums of the Year. Later in the year would see the record re-released with 100 copies containing the ash remains of Joe Talbot's mother whom is on the cover of the original and inspired much of the content.

IDLES concert tickets are subject to incredible demand and so, with limited stocks available, we really do urge you to book early or risk missing out entirely. Gigantic offers a huge array of essential gig tickets so stick with us for the very best experience.
Friday 21st January 2022

Doors at 18:30