King King tickets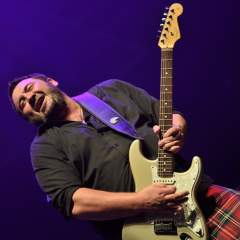 Energetic and dynamic British blues breakers King King hail from Glasgow. The driving force behind King King's unstoppable charge is Alan Nimmo, a virtuoso frontman possessed of an almost impolite level of charisma and the talent to back it up. An award-winning bluesman in his own right and widely known across the UK and Europe. Nimmo's full-blooded style, technical brilliance and impassioned vocals are infections and instantly recognisable.

Surrounding himself with the hottest talent currently working the scene has made King King an irresistible melting pot of influences. The result is a sound which is energetic, potent and irresistibly funky, to quote Guitar & Bass: 'King King play the kind of blues that'll lift the most stubborn of frowns'.

The multi award-winning British Blues band has confirmed that they will headline a brand new rock and blues festival for Wolverhampton on Sunday 11th of May 2019.

Support comes from former Skin/Jagged edge guitar legend Myke Gray with his new band ft Kim Jennett on vocals.

As the word is spreading the demand is rising so make sure you act fast and book your King King tickets before they are all snatched up. Making your gig tickets booking is made easy as you can access Gigantic 24/7 at home or on the go using a tablet, computer or smartphone.



Described as "one of the most explosive rock/blues bands on the planet." by Get Ready to Rock, King King are setting the Blues live scene on fire.

King King are the proud winners of the "Best Band" category at the British Blues Awards for the past three years (2012, 2013, 2014). What's more, the band scooped several more awards at the 2014 British Blues Awards including "Band of the Year", "Album of the Year", "Male Vocal of the Year", "Bass Player of the Year" and "Drummer of the Year".

As there are only limited supplies of King King concert tickets being put on sale by the event organisers, we really do urge you to act quickly and book yours before they are all gone. Last year saw Gigantic take home Nottingham Post's their illustrious 'Retail Business of the Year' award, and with even bigger things planned for the new year you know we are the very best place to come whenever you are planning your big night out!
Friday 22nd October 2021

Doors at 19:00