Magnum tickets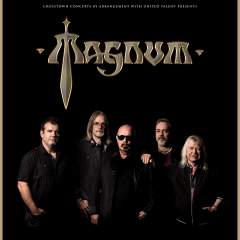 Magnum are one of the central pillars to British hard rock. Incredibly prolific, they have released nineteen studio albums including their brand new album Sacred Blood, Divine Lies. Now you can see them live!

The Birmingham band has undergone main changes in the line-up and currently includes drummer Harry James, lead guitarist Tony Clarkin, Bob Catley providing vocals with Mark Sanway playing keys and Al Barrow on bass.

The hard rock band began as a house band for the infamous Rum Runner club, but began to develop whilst playing their residency at The Railway Inn after they built their very own studio to practice and work in. Having their own space resulted in better quality songs and the demos saw them sign to CBS.

They released their debut album Kingdom Of Madness at the height of punk during 1978, resulting in the prog rock band doing little to impact the scene. The same could be said of 1979 second album Magnum II and a number of live albums they brought out.

Magnum began to make headway in 1985 with the release of the album On A Storyteller's Night selling well across Europe. The rise in profile saw their next LP; Vigilante, produced by Queen drummer Roger Taylor. By the release of Wings Of Heaven in 1988 they had won over their home country and rose to #5 in the UK Charts.

The band continued to write prolifically and release many records, including the brand new record Sacred Blood, Divine Lies which hit #31 in the charts.

Magnum tickets are on sale right now. Get yours through Gigantic.

In December they will play at Concorde 2 in Brighton and Wolfrun Hall at Wolverhampton.

These gig tickets are limited so please remember to book early or run the risk of being disappointed!