UK Foo Fighters (Tribute) tickets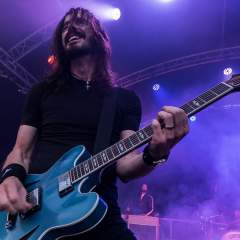 Think tribute acts are not your thing? Think again. Since 2006, a Foo Fighters tribute act - aptly named UK Foo Fighters - has been wowing crowds up and down the country with convincing performances of hits by the über-successful alt-rock band.

If you're a fan of the genuine article, you will not be disappointed by UK Foo Fighters live. Playing songs that span the Seattle band's 20-year career, Jay Apperley, Arron Warner, Alex Bailey and Jamie Valentine do a stellar job of recreating the sounds and atmosphere of a real Foo Fighters concert, without the millions of dollars and sizeable entourage. From the distinctive 'FF' logo backdrop to frontman Apperley's trademark Dave Grohl-inspired haircut, this hardworking tribute act do their utmost to make their set look the part too.

With a throaty growl reminiscent of his idol's, Apperley impressively meanders through the loud-quiet-loud template of gems such as 'All My Life', 'Stacked Actors' and 'This is a Call'. Equally at home playing introspective singalongs, such as 'Walking After You' and all-out crowd-stompers like 'Monkey Wrench', the Yorkshire-based quartet has the power to take audiences on an emotional rollercoaster not unlike what they would find at an authentic Foos gig.

UK Foo Fighters concerts are so impressive that the performers recently got to collaborate with their heroes at an intimate Foo Fighter's show in Brighton. Welcoming his doppelganger, Apperley, on stage, Grohl said: "Ladies and gentlemen, please welcome...me!" Apperley then replaced Grohl for a spectacular performance of 'White Limo' from the 2011 Foo Fighters album 'Wasting Light'.

Any true fan of Dave Grohl et al will not want to pass up the opportunity to catch a UK Foo Fighters tour. Not just another tribute band, this group will do more than tide you over until the next Foos tour. If you go to see UK Foo Fighters in action, you will be guaranteed a good night.

With a loyal following of their own, UK Foo Fighters tickets are highly sought after so if you want to see for yourself exactly how good this group is, bookmark this page.